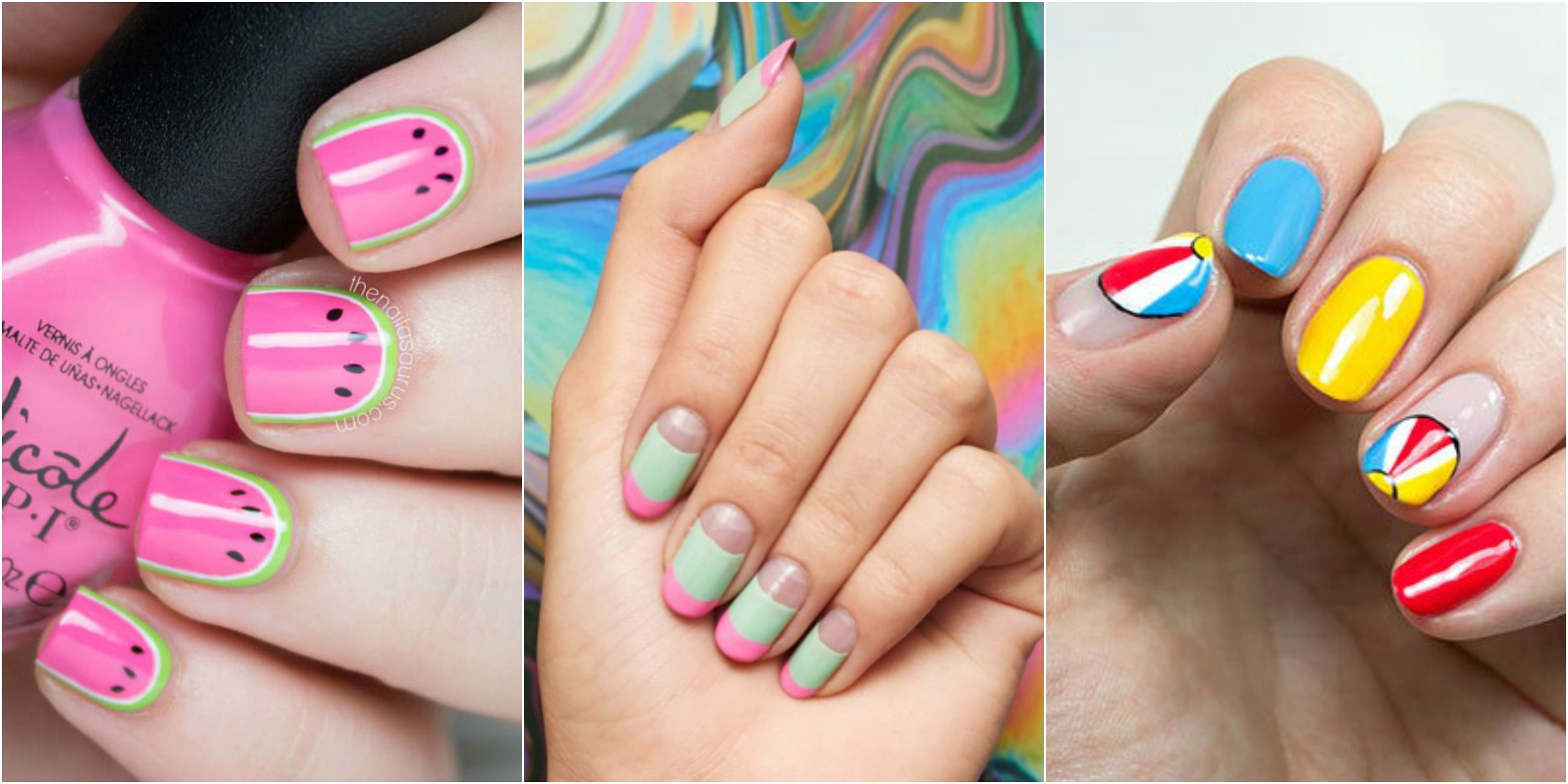 The best ideas for sea manicure in the summer of 2016
In the summer, fashionistas want to attract as much attention as possible to themselves, even with such seemingly insignificant detail as nails painted in a marine style. Summer 2016 sea manicure is notable for a variety of patterns and shades - you will surely find yourself suitable!
Design variations
In 2016, the sea manicure can be so different and bright that any fashionista will precisely pick up something to match the color of the swimsuit! Some trends have remained from past seasons, while others have taken their "fashionable" place only this year.
Traditional
Classic sea motifs suggest a combination of glossy colors: red and white, blue and white, red and blue. Nails can be monophonic or with a striped pattern in the form of straight lines.
Do not forget also about the images of anchors, ropes, hand wheels. They can also be drawn, but in 2016 they prefer stickers, sliders and figurines made of rhinestones.
Kingdom of neptune
The inhabitants of the underwater world, too, often find themselves on the nails of girls.Marine design is often complemented by cute fish and starfish. Sometimes they even draw a whole landscape of the seabed, complementing it with pebbles, glitter and semi-beads.
Alternatively, you can cover the entire nail with a reticular pattern similar to fish scales.
Sea wave
What could be a sea manicure without the sea? In 2016, all shades are welcome: from sky blue to blue-black. The sea changes its color depending on the mood, and you change! For example, try to make a color gradient transition on your nails.
Another option - a marble manicure in blue and white, which is very similar to the seething seething deep.
Tropical Islands
Despite the fact that marine design is more often performed in cold shades, nobody canceled bright colors! Think about what else do you associate vacation? That's right, with a trip to the tropical islands.
If you schematically depict a lonely palm tree on an island in the purple-red rays of the setting sun, you will get the most juicy sea nails among the possible ones.
Sea manicure: master class
Well, inspired by ideas and examples? It's time to create your perfect marine manicure 2016! It combines several techniques: stamping, gradient and the addition of decorative elements.
Perhaps this modern manicure will seem to someone rather complicated, but you will agree - the result is worth any effort.
You will need blue and blue glossy lacquers, a bottle of gold lacquer-glitter, stencils, jewelery in the form of pearls, shells, varnish base and fixer.
Make a manicure of the desired length and shape and apply a varnish base.
Cover all marigolds with blue lacquer and medium ones with dark blue.
When the coating is dry, stick a stencil to one of the nails. The cuticle area can be covered with a protective agent (it is perfectly replaced by tape), so as not to stain your finger.
Spread some blue lacquer on the sponge, add glitter.
Attach a sponge to the nail with a stencil and carefully "beat" the color in the empty windows. Until the varnish has begun to dry, peel off the template and remove the protection.
Cover the dried plate fixer (top). At the base of the nail with "scales", glue a few beads - put them on a not yet frozen top or use glue.
Around the blue nail, also walk a protective agent. Using a sponge, stretch the golden glitter from the base of the nail approximately to the middle: the farther away, the less shine should be.
Paint the dry plate top and add decorations. Thus, you can decorate several nails, as in the example, or leave a modern design in a single instance.
Trendy sea manicure 2016 is ready! You can read about other variants of manicure for short nails in the article "Stylish Manicure for Short Nails".
The video tells you how to make classic sea nails at home:
Take it to yourself, tell your friends!
Read also on our website:
Do not do these hairstyles if you do not want to look older than your age.
In pursuit of fashion, or, conversely, for practicality, many young girls and mature women sometimes choose a completely inappropriate hairstyle, which adds to them at least a couple of years. Therefore, we decided to collect the advice of experienced stylists and show our readers hairstyles that age any woman.
The rules of anti-aging makeup for those who are "for ..."
Makeup for young girls and women of age is significantly different, as the skin acquires characteristic age-related changes.Therefore, every woman needs to learn how to properly mask the annoying flaws. How to do it? The basic rules and secrets of age makeup reveal in this article!
How to make curls without curling and curlers? 7 ways for every taste!
For girls with straight hair, curls are a good way to slightly change the hairstyle, to adopt a more feminine and romantic look. The iron and the curling iron cope with this task quickly and effectively, but they severely injure the hair. Therefore, we suggest you learn how to make curls without curling and even without curlers!
The most fashionable hairstyle of this summer! Everything you wanted to know about cancanalon spit
Hair weaving has been popular for a long time, but it was boxing braids with cannacalo that became the main trend of this summer. And no wonder: with such a bright and bold hairstyle is impossible to ignore! What is kanekalon, how long do pigtails last, how much does it cost to braid them, can it be done independently? We are telling!
Hairstyles for every day that can be done in 5 minutes
If you are the owner of long hair, then you are probably interested in how beautiful it is to collect hair in order to look interesting, but not to spend a lot of time preparing. And we will be happy to help you: then you will learn how to do simple hairstyles for every day - detailed descriptions, photos and videos are attached!
Useful lifehacks to help you keep your hair under the cap
Refusing to wear a hat, because the hair under it loses freshness and volume? But do you remember that hypothermia of the hair follicles can lead to hair loss? And why suffer in the cold without a headdress, if there are tricks aimed at how to keep the hairstyle under the cap - we will tell about them!
How to diversify your makeup with unusual eye shadow?
In the make-up industry there are more and more new types of cosmetics, which are not so easy to keep track of. In the same way, instead of the usual pressed shadows for many of us, a number of different products came out on the market: liquid eyeshadow, stick shadows, glitter shadows ... What it is and how it is used - we will tell further.
How to remove the extended nails yourself: gel and acrylic
It's time to remove artificial claws, and prices for salon procedures unpleasantly bite? Our article will tell you how to remove extended nails at home! Of course, it will take a little more time than the wizard, but you will understand that you yourself can cope.
Brovki house: we select the correct form of eyebrows
For several seasons, eyebrows are the main and integral accent of any kind of makeup - their neat natural shape emphasizes the virtues of their mistress and gives the eyes expressiveness. How to make the correct form of eyebrows at home, read our article.
Summer hairstyles 2016: TOP 5 fashion tips
Did you know that summer hairstyles in 2016 can be done in just 5 minutes? All because they are very simple and natural, and most importantly - comfortable. With such beauty and in the light will come out not ashamed, and not hot in the hot afternoon. Meet the fashion trends of summer!
Stylish manicure for short nails. How to make at home?
Manicure for short nails at home - what are its features? What you need to perform a high-quality procedure and a beautiful result? What types of design is better to choose, what is shellac coating - tips and workshops will find in this article.
Hairstyle in the Greek style. How to make yourself?
Greek hairstyle - how to do it yourself at home? Does it all fit, how long should the hair be, what kind of accessories are used - we offer you stylist's advice and step-by-step master classes in creating a Greek hairstyle.
Related news