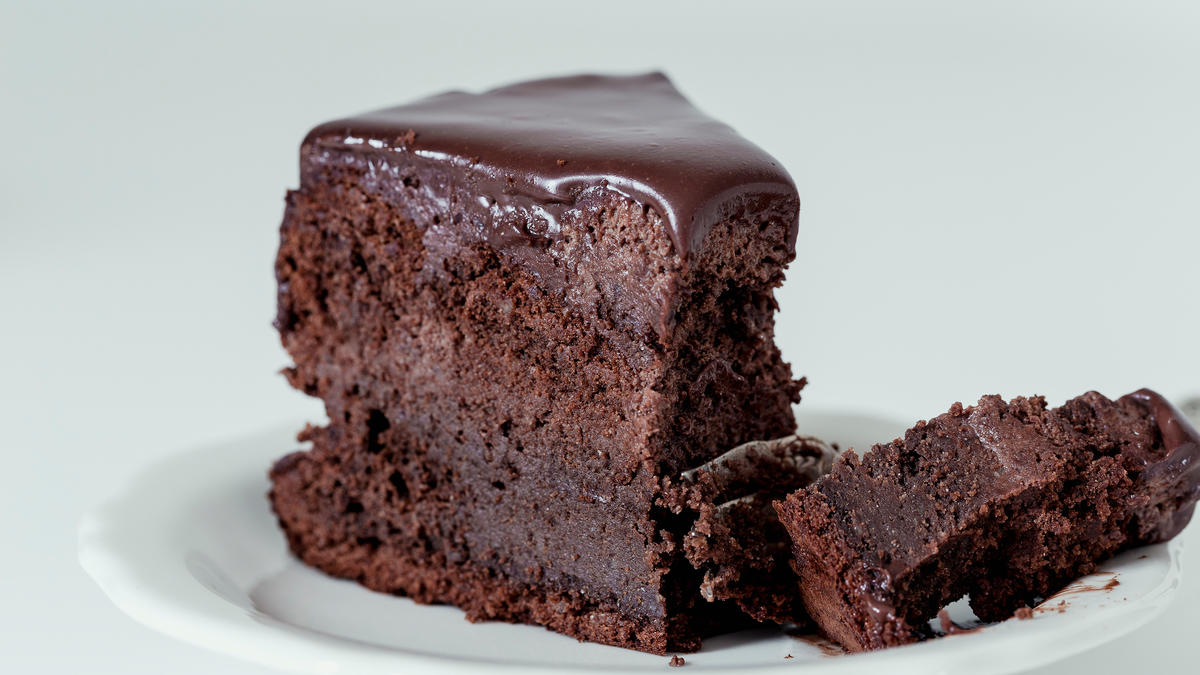 Quick and delicious chocolate cake recipes
"Soft Heart"
This is a very simple, but at the same time interesting recipe that will allow you to make a delicious dessert. Such a cake will be suitable both for a special situation and for every day.
To make it you need the following ingredients:
bitter chocolate - 200 grams;
butter - 200 grams;
sugar - 100 grams;
chicken eggs - 3 pieces;
flour - 100 grams.
A distinctive feature of this dish is a soft core. So, you need to cook it in a fairly high form and not for too long.
First you need to melt the butter with chocolate. After that, you can add sugar and mix well, until the sugar is dissolved. Now the mixture should cool down a little, after which eggs are added to it. You need to add them one by one, mixing the dough thoroughly.
When all three eggs are in a bowl with dough, flour is gradually added. The dough is kneaded and poured into a form, greased with butter.
The form with a dessert is sent to the oven preheated to 180 degrees for 20 minutes. To control the readiness of chocolate cake you need a toothpick.However, remember that the core must remain slightly moist so that the "heart" is "soft".
This recipe is quite simple, and the cake turns out delicious and unusual. You can decorate it on top by adding a glaze or a cherry. This step is at your discretion.
Chocolate banana cake
For lovers of desserts with a rich chocolate-banana flavor, we offer the following cake recipe. We will take a step-by-step look at how to make this simple chocolate-banana dessert. It is prepared not in a slow cooker, but in the oven.
Cooking we will chocolate sponge cake.
It requires the following ingredients:
cocoa powder - 2 tablespoons;
eggs - 2 pieces;
flour and sugar - 200 grams;
milk - 100 milliliters;
margarine - 90 grams;
Baking powder - 15 grams.
Also need a recipe interlayer. The cream will be banana:
high fat sour cream - 0.5 liters;
ripe bananas (large) - 2 pieces;
Sugar - 5 tablespoons.
And the last - ingredients for the glaze:
sugar - 3 tablespoons;
milk - 80 milliliters;
butter - 40 grams;
cocoa powder - 2 tablespoons.
That's all. You can start cooking the cake. Chocolate-banana cake involves the preparation of the cake to start.
Cakes
First, mix eggs and sugar. Beat them up about 5 minutes, until the sugar is dissolved.Now margarine is melted and added to eggs. After that, milk is introduced, it should be at room temperature. At this time, the flour is mixed with cocoa and baking powder. Now it is possible to combine two mixtures: add bulk to liquid. The dough is kneaded and moved to the form (diameter about 20 cm). Pre-cover the baking paper form and heat the oven. Chocolate cake baked at a temperature of about 180 degrees 40 minutes. The first 20-25 minutes to open the oven can not be so that the cake does not fall.
Glaze
To prepare the glaze, use the baking time for the cake. In a metal container mix sugar, cocoa and milk and boil them until thick and simmered. Add oil before removing from heat.
Cream and cake layout
Banana cream is prepared by whipping sour cream with sugar. The banana is cleaned and cut in circles.
Now you can collect chocolate-banana cake. Biscuit is cut into three shortcakes. And the cap of cakes is thinly cut off. The first cake is put on a plate and is well lubricated with sour cream, and then the bananas are laid on the cream.
Now bananas are smeared with cream, but in smaller quantities, and the next cake is put on top. The procedure is repeated. The last cake is smeared only with cream, without bananas.The hat cut off at the very beginning is randomly crushed and mixed with cream. After that, you can randomly put it on the cake. The addition of the glaze is arbitrary, the top of the cake is watered with random movements.
Ready chocolate-banana cake is removed for several hours in the fridge. This step-by-step recipe will help you to prepare a simple and tasty dessert.
Chocolate-curd cake in a multicooker
Cooking in a slow cooker is always pleasant and fast enough. The following recipe is a simple and tasty cake that is cooked in a slow cooker. Among the curd desserts, this cake is a real find. This cheesecake is prepared without icing.
Ingredients for the dough:
flour and sour cream - 200 grams;
sugar - 100 grams;
eggs - 2 pcs .;
butter - 50 grams;
cocoa - 2 tablespoons;
soda.
Filling components:
sugar - 100 grams;
cottage cheese - 400 grams;
eggs - 2 pcs .;
semolina - 2 tablespoons.
Preparing a cake in a slow cooker. To start melt the butter. To do this, put it in the multicooker tank, turn on the "baking" mode. When it is melted, we coat the edges of the mold in a multicooker, and pour the rest into another container.
In the mixer, mix the ingredients for the test: eggs and sugar, add oil and sour cream a bit later. At the end add cocoa and flour, and then - soda. Knead the batter.
Next, prepare the filling. To do this, mix eggs and cottage cheese, and later add sugar and semolina.
In a vessel that is in a multivariate, pour the dough first, and then the filling. We set the baking mode for 90 minutes. When the time is up, leave the cake in the slow cooker for another 20 minutes in the "heating" mode. This recipe is simple and tasty. Enjoy your meal.
Cherry Chocolate Cake
Baking cherry is always a win-win solution. And if you have a chocolate cake, then such a culinary masterpiece, where chocolate is in harmony with cherry, will surprise both households and guests.
Preparing a cake is easy, just follow the recipe.
Main ingredients:
200 grams of sugar, flour and milk;
170 grams of butter;
500 grams of cherries;
4 eggs;
70 grams of chocolate;
5 tablespoons of potato starch;
4 tablespoons of cocoa powder;
10 grams of baking powder;
half a teaspoon of nutmeg;
2 tablespoons of brandy.
If you are preparing a cake with a cherry, then almost any berry will do.For a start, the berry washes and disposes of the bone.
Mix flour, starch, baking powder, cocoa, nutmeg seasoning. Separately beat eggs with sugar.
Milk combines with soft butter, mixed until smooth. Oil mass is combined with eggs. After that, brandy and a mixture of dry ingredients are added to the dough.
The berries are sprinkled with starch, after which you can begin to lay out the dough. To begin with, a third of the dough is placed in a container, followed by a portion of cherries and chocolate pieces. Next - again the dough, cherries and chocolate. The last layer is one dough. On this cake with cherries can be placed in a preheated oven.
Cake with cherry is baked at a temperature of about 180 degrees for one hour.
Related news