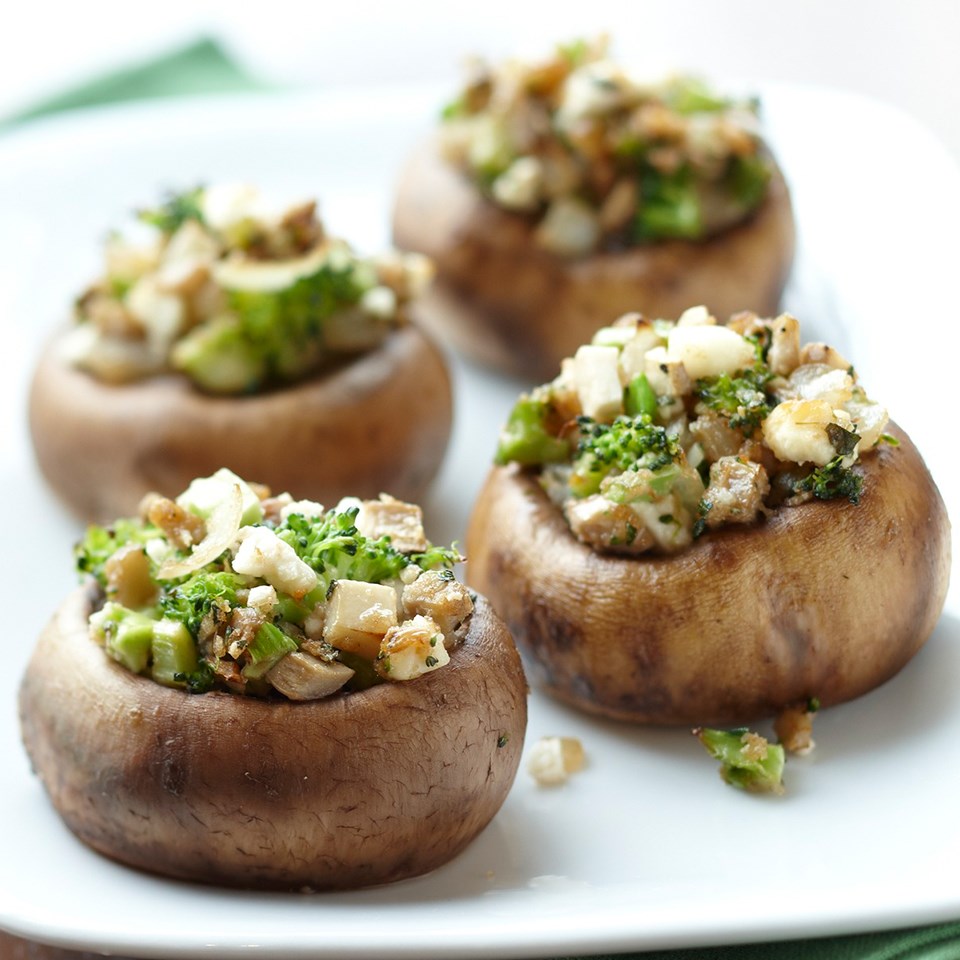 How to cook stuffed champignons - recipes with step by step photos
Mushroom preparation
If you decide to cook stuffed mushrooms, the first thing you need to choose champignons. At the same time pay attention:
on color- fresh mushrooms have a white or slightly brown color, without any dark specks on the caps;
density- select only elastic ones;
aroma- if the smell is unpleasant or completely absent, do not make a purchase;
the size,

since you want to make stuffed mushrooms, choose large specimens.
After you have brought a successful home purchase, the mushrooms should be cleaned. Here the opinions of the chefs diverged, some believe that it is enough just to wash them, others insist on a full cleaning.
We recommend using your own intuition. And, if the champignons are young and clean, then just wash them. And, in the case when you doubt that this will be enough - remove the film and all the places that have not liked you.Then gently separate the leg from the cap (see photo).
And you have processed the purchased mushrooms, it's time to choose a recipe according to which they will be prepared.
Filling
What can be filled champignons? The most common options are:
Minced chicken;
Ham;
Vegetables (lean).
Recipe number 1.Finely cut the mushroom legs (pieces 15) and 1 onion (onion), lightly fry, add salt and pepper to taste. Boiled chicken meat (400 gr.) Grind (in a meat grinder, blender or by hand) and mix with the fried ingredients. Here we drive egg and greens. Fill the caps with minced meat, smear with mayonnaise and fill it with grated cheese. Stuffed champignons ready for roasting in the oven (see photo).
Recipe number 2.For this dish you need to stock up:
onions (1 head);
feet from mushrooms (15 pieces);
ham (100 gr.).
All finely cut and fry in a hot frying pan, stirring constantly, you can add salt and pepper. Then lay out on the cap. Sprinkle with grated cheese mixed with breadcrumbs on top. The semi-finished product is ready. It remains to bake the stuffed mushrooms in the oven.
Recipe number 3.Lean mushrooms are stuffed with carrots and rice.Pre-need to boil 0.5 cups of rice. While it is boiling, finely chop the mushrooms (about 15 pieces) + 1 onion (onion), grate 1 carrot, fry the ingredients in vegetable oil. Mix the cooked rice and the roasted mixture, add salt and pepper if necessary. Fill the caps and sprinkle with grated cheese.
Mushrooms stuffed with a lean filling are ready for roasting in the oven. This recipe will delight vegetarians.
Also as a filler you can use:
Shrimp;
Mashed potatoes + pickled cucumbers;
Cheese + quail eggs;
Cottage cheese + dried apricots.
Each method is original and will find its fans.
Temperature conditions
After you have chosen the recipe you liked (with minced meat, chicken minced meat, ham or lean) and stuffed mushrooms, it's time to move on to the oven.
Preheat it in advance to a temperature of 200 C.
Cover the baking sheet with foil or parchment paper, lay out the stuffed mushrooms.
Roasting time - about 20 minutes, but requires constant monitoring by the hostess.
Enjoy your meal
To achieve the greatest aesthetic effect, we recommend putting mushrooms on a dish with greens, as in the photo. So they look especially elegant.
Serve the dish can be hot and chilled.Gourmets will appreciate both options. A hostess will rightfully receive a lot of compliments.
Related news