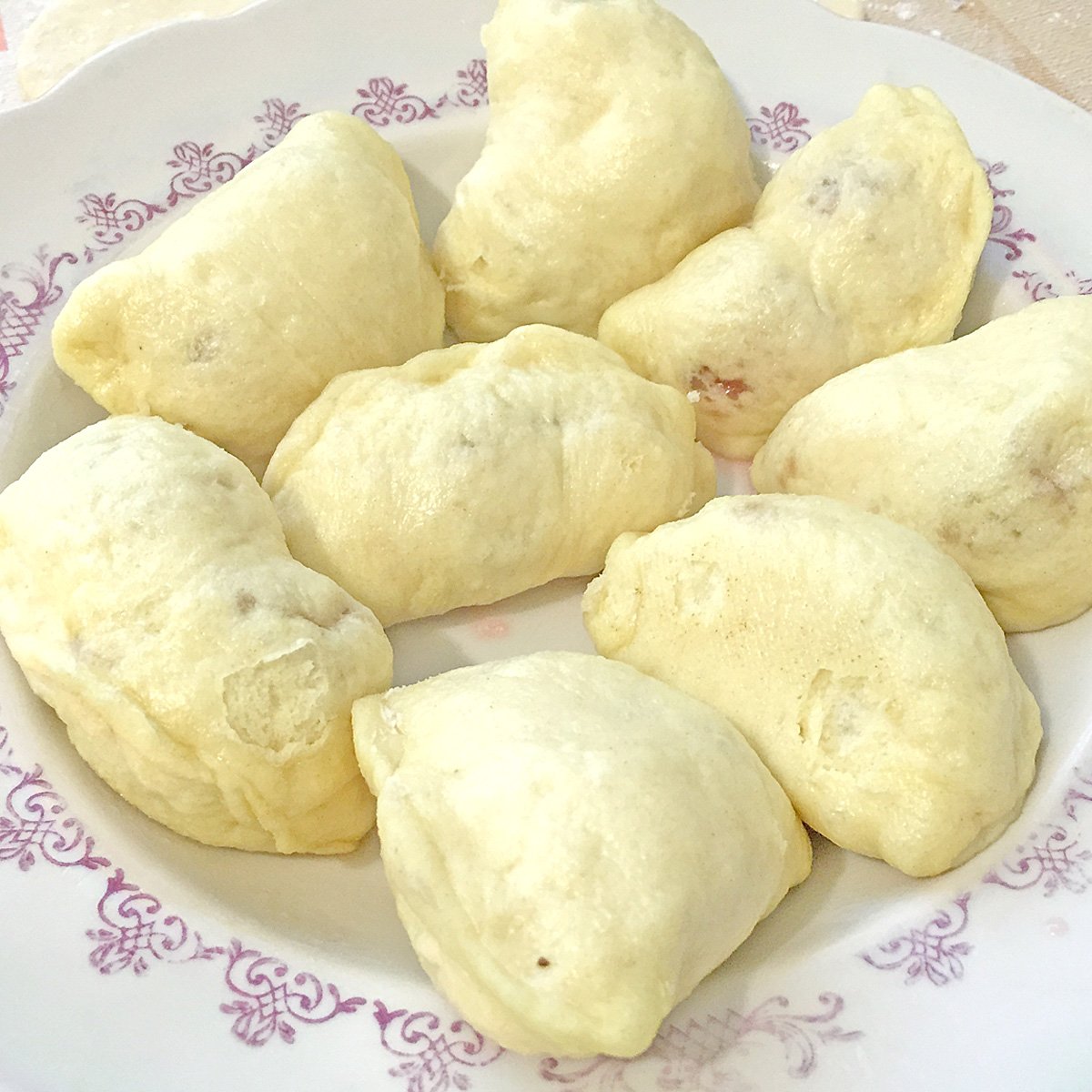 Maria Soboleva
11.07.2016
How to cook dumplings with steamed cherries - a delicious recipe
What is your favorite dish of dough (except baking) - dumplings, pasties, belyashi? And do you knowsteamed dumpling cherries recipe? This is such a yummy that hardly anyone would refuse. Preparing is easy, but there are secrets, without which the desired taste can not be achieved.
Secrets of delicious dumplings
Surprisingly, there is, perhaps, one basic recipe for dumplings with steamed cherries. There are, of course, slight differences in the composition and method of kneading the dough, but more on that later.
For now - the promised secrets:
Cooking dumplings with steamed cherries is exclusively handmade, no mixers and kneaders. Why? The fact is that the composition includes kefir and soda, thanks to which the dough turns out to be tender and lush. And only with unhurried kneading with hands, these ingredients "work", and we end up with a soft consistency of dough.
To make the dough more airy, do this: pour kefir into the bowl and sift a few tablespoons of flour along with soda,stir and let the reaction take place - the ingredients begin to interact, bubbles appear. Now you can add sugar and salt and add a little flour.
When preparing the stuffing, it is better not to put sugar right away. Add it to each dumpling when sculpting. Experienced housewives say it tastes better. But a little starch to add to the cherries is worth - then when cooking the juice will not flow out and color the dumplings.
If you do not have a special kitchen gadget (read about the housewives in the kitchen in a separate article), you can use a safety pin to extract bones from cherries. Not the tip where the needle is inserted into the cap, and the opposite.
Dumplings Recipe
Dumplings with cherries do not happen much, homemade gobble up everything and ask for supplements. But if you cook for the first time, start with a small amount. So to speak, trial lot.
You will need:
250 ml of kefir (can be yogurt, sour milk or whey);
1 egg (some do without this ingredient);
half a teaspoon of salt and soda;
2 teaspoons of sugar;
3 cups of flour (perhaps it will take a little more or less).
Stuffing: about 400 grams of cherry, dessert spoon of starch and sugar - based on an incomplete teaspoon for each varenik.
Recipe:
In a bowl, pour the kefir, sift half a cup of flour and soda through a sieve, stir.
Add the egg, salt, sugar, gradually pouring the flour and carefully stirring with a wooden spatula.
While the dough is watery and sticky, knead in a bowl, then spread on a floured table and knead with hands.
Do not overdo the flour, otherwise the dough will be dense. And we need an airy, fluffy and delicate texture.
We leave the prepared mass for 20 minutes to "rest": you can wrap in a film, but not tightly or cover with a towel (bowl).
In the meantime, let's do the filling: remove the bones, add starch to the ligament.
We separate a piece from the dough, roll it into a sausage and divide it into pieces. Each roll in flour and begin to sculpt dumplings.
Slightly roll the pieces, or simply wipe your hands to make a circle or oval.
In the middle of the pour sugar, put the cherries, usually placed 2-3 things. We close the edges tightly, it is possible in the form of a pigtail.
Cook for a couple of 6 to 8 minutes. If you do not have a double boiler, you can pour water into a wide saucepan, put a colander on top, oil it so that the dumplings do not stick.Another option is to pull the gauze and cook on it.
Here is a recipe for steamed dumplings with cherries. What is the best way to serve them? With butter, sour cream, honey and cherry sauce. To make it, slightly remember the berries, add sugar to taste, cover with water and bring to a boil. Dissolve a little starch in water, pour in a thin stream, stirring well. And let the sauce stand for a bit, it will then thicken and be ready for serving.
For clarity, watch this video - it shows the recipe of steamed cherry dumplings. Cook with pleasure and bon appetit!
Take it to yourself, tell your friends!
Read also on our website:
Quick snacks that you can make before the arrival of guests
Who said that to organize a tasty table you need to stand at the stove for half a day? We will be happy to show you some great recipes with which you can cook some quick snacks that can be prepared at the last moment before the guests arrive!
This radish you have not tried! Unusual summer recipe
We are glad to tell you an unusual recipe for the preparation of a useful and bright vegetable that makes us happy in June - this is a radish dish! We used to add it to salads and okroshka, our favorite, but did you try to fry it? It turns out surprisingly very tasty!
Unusual potato recipes - fingers you will lick!
It would seem that you will not be surprised with our man's potato - anyone will be able to list at least a couple of ways to prepare it quickly and tasty for everyday use. However, we will teach you to cook other, unusual dishes from potatoes that can be safely served on the festive table!
What to cook from apples? Recipes for delicious desserts!
For some reason, not all of us have a love for apples, even though it is very useful and, perhaps, the most accessible fruit in our area. But apples can not only be eaten raw, but also cook delicious and fragrant desserts from them! What kind of apple dishes should be cooked for the beginning - see below!
Recipes for savory and delicious egg salads in a hurry
Chicken eggs - one of those products, which is more often the rest can be found in our refrigerators. But in addition to the banal scrambled eggs of them you can cook a lot of salads, which you can eat for lunch at least every day, or you can serve on the festive table. The most affordable and delicious egg salads are waiting for you further!
What to make from pears? Simple seasonal recipes
Pears are now available as never before, so the housewives have a question: what tasty can be made from these seasonal fruits? Of course, jam, pancakes, pies and much more interesting! However, this time we will not experiment and present to you simple, but proven recipes for pear dishes.
Incredibly delicious pumpkin dishes for the autumn table!
Pumpkin - the queen of the autumn table, rich in nutrients and just very tasty! What can be cooked from juicy pumpkin, since now is the time when you can easily buy it in the store? Next, we collected the most delicious and original pumpkin dishes that can be eaten for breakfast, lunch and dinner!
What to cook from bananas? 5 best recipes for every taste
Bananas are tasty, healthy and affordable fruits, but most of us are used to eating them only raw and just as a snack. But there are a lot of incredible dishes, both simple and more complicated, where one of the main ingredients is a banana. What to cook from bananas - tell and show!
Recipes for delicious fish dishes that diversify your table
If you do not like fish, then you just do not know how to treat it correctly! This is the product that must be present in your weekly diet, and we will tell you how to cook the fish so that the dishes are tasty and varied. The main characters of the table are beloved by many mackerel and herring!
Unusual dessert without baking: preparing the cake "Broken Glass"
If you are not at all friends with pastries, but want to please yourself or your loved ones with a delicious dessert, we advise you to pay attention to the "Broken Glass" cake! It looks very unusual and beautiful, and it is preparing quite simply.A detailed recipe for a cake without baking with step by step photos look in our article!
Cooking delicious and healthy desserts without flour and sugar: 3 simple recipes
Who would have thought that you can eat sweets at least every day and not get fat! You just need to learn how to make delicious and healthy desserts without sugar and flour, and then you don't want to go back to the unhealthy and fatty cakes and donuts. Simple recipes for such unusual sweets are waiting for you in this article.
Simple and delicious egg dishes that you definitely need to try.
Due to their availability and nutritional value, chicken eggs are a frequent guest on our table. But not everyone knows what to cook from eggs other than scrambled eggs or scrambled eggs, so that it is as simple and tasty as possible, so we collected a few cool recipes of eggs dishes that diversify your menu. Be sure to try!
Related news