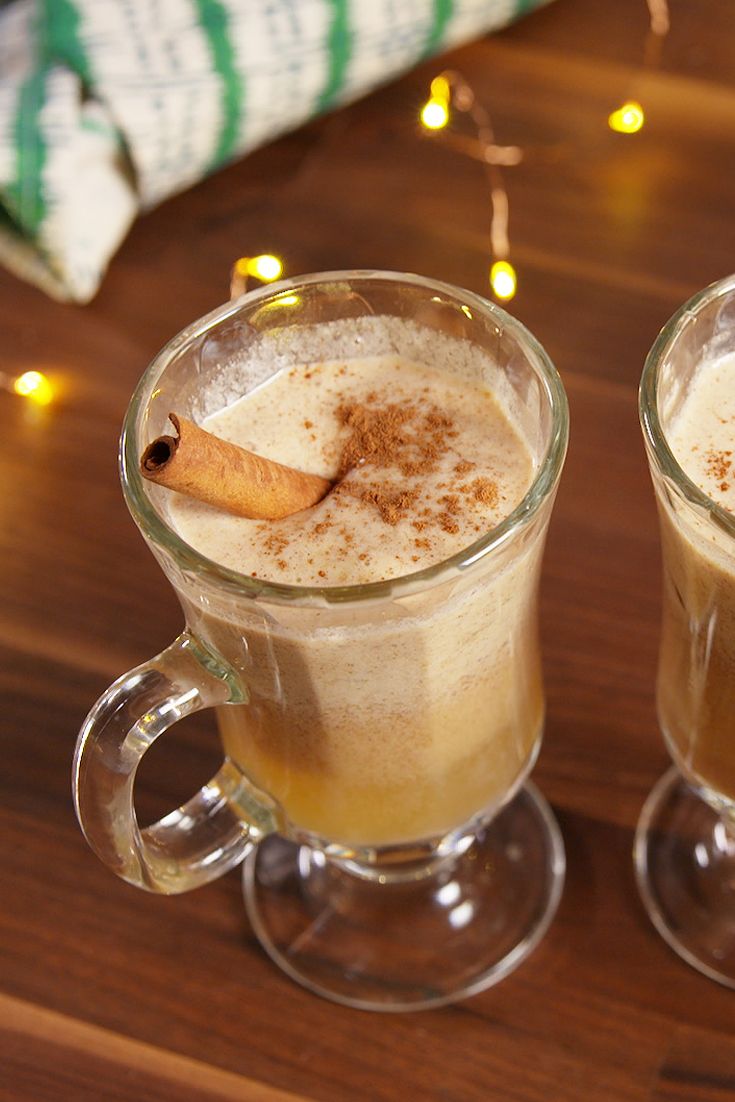 Hot drinks: TOP-3 for warmth and comfort
In the cool season, warming drinks are particularly relevant. With them it is easier to survive the bad weather, and yet they are uplifting and even good for health. Classic warming drinks are grog, mulled wine, all kinds of teas, punch, mead and others. We offer TOP-3 of the most favorite drinks that can be prepared at home from a small amount of ingredients.
Mulled wine
The classic of the genre is mulled wine. Heated wine with the addition of fragrant spices will not leave anyone indifferent. A prerequisite for a tasty drink is a quality wine. Almost all recipes offer to take red wine as a basis, but there are those who have tried mulled wine with white, which also has an interesting taste and, in combination with spices, can diversify your personal drink card.
Mulled wine can not be reheated, so it is recommended to cook it in a small amount, in portions. They serve mulled wine in tall glasses, but you can also use ceramic cups.
Mulled wine: a recipe
Red wine - 0.75 l;
Nutmeg - to taste;
Dry cloves - 6-7 buds;
Water - 70 ml;
Sugar - 1 tbsp. l
Heat the water, add nutmeg and cloves, bring to a boil and let stand for 15 minutes. Strain the broth and stir the sugar in it until completely dissolved. Heat the wine to 70 degrees and combine with fragrant broth.
Grog
This drink is not only tasty and fragrant, but also has an interesting history of occurrence. Thus, the English admiral Vernon in 1740 issued a decree according to which it was necessary to dilute the obligatory daily portion of rum for sailors with water.
The resulting result did not differ outstanding taste, and this led the sailors to improve the recipe. They began to heat the mixture and add spices to it, the result was a tasty but also healthy drink with preventive properties for colds.
Over time, grog evolved and its basis now consists of tea and alcohol, which is suitable as rum, brandy and even vodka. Ingredients and spices in the grog can be added and combined as you like, which gives you room for imagination and a different palette of tastes.Mix spices, citrus fruits, fruits, honey, spices and create your own perfect recipe for grog. We offer a quick and easy to prepare option.
Grog: Recipe
Tea leaves - 50 g;
Vodka - 1 l;
Water - 1 l;
Sugar - 250 g
Boil 2 cups of water, pour 2 cups of vodka and pour in all the sugar, stir until a homogeneous mass, reduce the heat and, stirring constantly, boil the mixture for 5 minutes.
Brew tea in the remaining water and let it brew well. Strain the tea and mix it with the slightly cooled syrup, pour in the mixture of slightly warmed vodka and mix everything thoroughly.
Punch
The authorship of this drink is appropriated to the English, but in fact it was invented in India, which for a long time was an English colony. The word "punch" in Old Indian sounds like "punch" and translates as "five." It is just as many ingredients of a classic punch, namely, wine, rum, fruit juice, honey or sugar, and also spice (tea, cloves, cinnamon).
The technology of punch preparation differs little from those described above; it is recommended to serve the drink in a warm dish. It is enough to pour the vessels with boiling water and immediately pour hot punch.
Punch: recipe
Sugar - 0.5 kg;
Water - 0.5 l;
Lemon - 3 pcs .;
Dry white wine - 0.5 l;
Vodka - 150 ml;
Rum - 150 ml;
Tea - 250 ml.
Dissolve sugar in water, add zest from one lemon to water, pour in three lemon juice. Put the mixture on a slow fire and cook until it thickens. Cool, add wine, rum, vodka and tea. Let stand and then reheat to 70 degrees. Serve in tall glasses.
Hot drinks have many variations of cooking. There are non-alcoholic recipes that will suit children and people of all ages. Warmly presented with such simple but beloved cocoa, herbal teas, hot chocolate. Experiment and give your loved ones warmth and good mood!
Take it to yourself, tell your friends!
Read also on our website:
How to cook corn? Cooking methods
How to cook corn - do you know all the details of cooking? What is useful this grass, which cobs to choose, how much to cook? We will also share with you a variety of cooking recipes: in the microwave and a double boiler, use our helpful tips.
How to increase the number of servings of food?
How to feed unexpected guests, having on hand a minimum of products? Is it possible to save on family food without damage to the health of the household? Answers to these questions, as well as recipes for inexpensive and tasty dishes, look in our article.
5 interesting recipes for delicious fruit tea
Summer is a fertile season for a variety of fruits and berries, which can be used not only in desserts, pastries and preserves, but also in the preparation of fragrant and very tasty drinks! We offer you 5 ways to prepare vitamin fruit tea from fresh and dried fruit - be sure to try!
These tasty drinks will quickly warm you up in the cold winter.
There is nothing better in the icy winter season than a tasty and fragrant warming drink! We just know a few proven recipes, thanks to which you will learn how to prepare pleasant winter drinks for yourself and loved ones. And most importantly, they can warm up without unnecessary consequences - at least go to work, at least get behind the wheel!
How to make a healthy tea with mint: recipes that you did not know
Mint tea has long been known for its beneficial qualities. It is very refreshing in the heat, soothes the nervous system and has a positive effect on the body as a whole. Ways of welding are not considered, but not all of them help to achieve the desired effect. How to make tea with mint correctly, we analyze in this article.
What types of beer are there and what is their zest?
Types of beer - how many of them exist? What is ale and lager, who invented porter, what are the most popular types of drink in the world? What makes light from dark different, what real beer is made of and how it can be dangerous - we bring interesting facts to your attention.
Homemade Tarragon - 3 Recipes of the Invigorating Drink
Recipe for homemade tarragon - how many ingredients does it include? Is it difficult to make a refreshing drink at home? What proportions are optimal to get a real homemade tarragon? We will share different ways of cooking - from the simplest to the more laborious. And you choose.
3 recipes of berry compotes: delicious and vitamin!
Compote from the berries - how to cook it correctly in order to preserve all the useful properties? What drink is the most delicious, wholesome and vitaminous, what distinguishes cooking from fresh and frozen raw materials, whether all the berries are suitable for cooking - find out what is recommended by experienced chefs.
3 best recipes for homemade kvass
Recipe for homemade kvass - how to choose the best? What it is traditionally made of, is it tasty kvass without yeast and what is the technology of its production, what is the use of this drink? Read about it, and more about little kvass tricks.
How to properly brew green tea?
How to brew green tea correctly - learn the secrets of tea ceremony connoisseurs. What is more important: water quality, amount of brewing, brewing time, used utensils? Do supplements improve the taste of tea? We will tell about all the nuances of the process.
TOP-6 refreshing homemade lemonade. Save yourself from the heat!
Homemade lemonade - how to make this tasty, healthy and so refreshing drink in the heat yourself? What ingredients are traditionally usedWhat can diversify the taste of lemonade? We will share with you the recipes of the best summer drinks that are much tastier than the store.
What to drink to lose weight? Weight Loss Recipes
Drinks for weight loss - how to lose weight with their help? Whether kefir, apple cider vinegar, ginger, any recipes for jelly, teas, decoctions and other drinks help to fight with unnecessary kilograms - we will tell you about the secrets of their preparation and beneficial effect.
How easy is it to cook a delicious jelly?
How to cook jelly at home? What is it traditionally prepared from - which bases are the most popular: berry, fruit, oat, dairy, is it necessary to add starch? What is the use of this tasty drink? We picked the best recipes for a variety of kissels - cook for health.
How to cook the right mulled wine at home?
What is real mulled wine, is it possible to cook it at home? What ingredients are traditionally part of this drink? We have selected the best original recipes for you, including classic and non-alcoholic mulled wine, and tell you about the nuances and secrets of cooking.
Related news