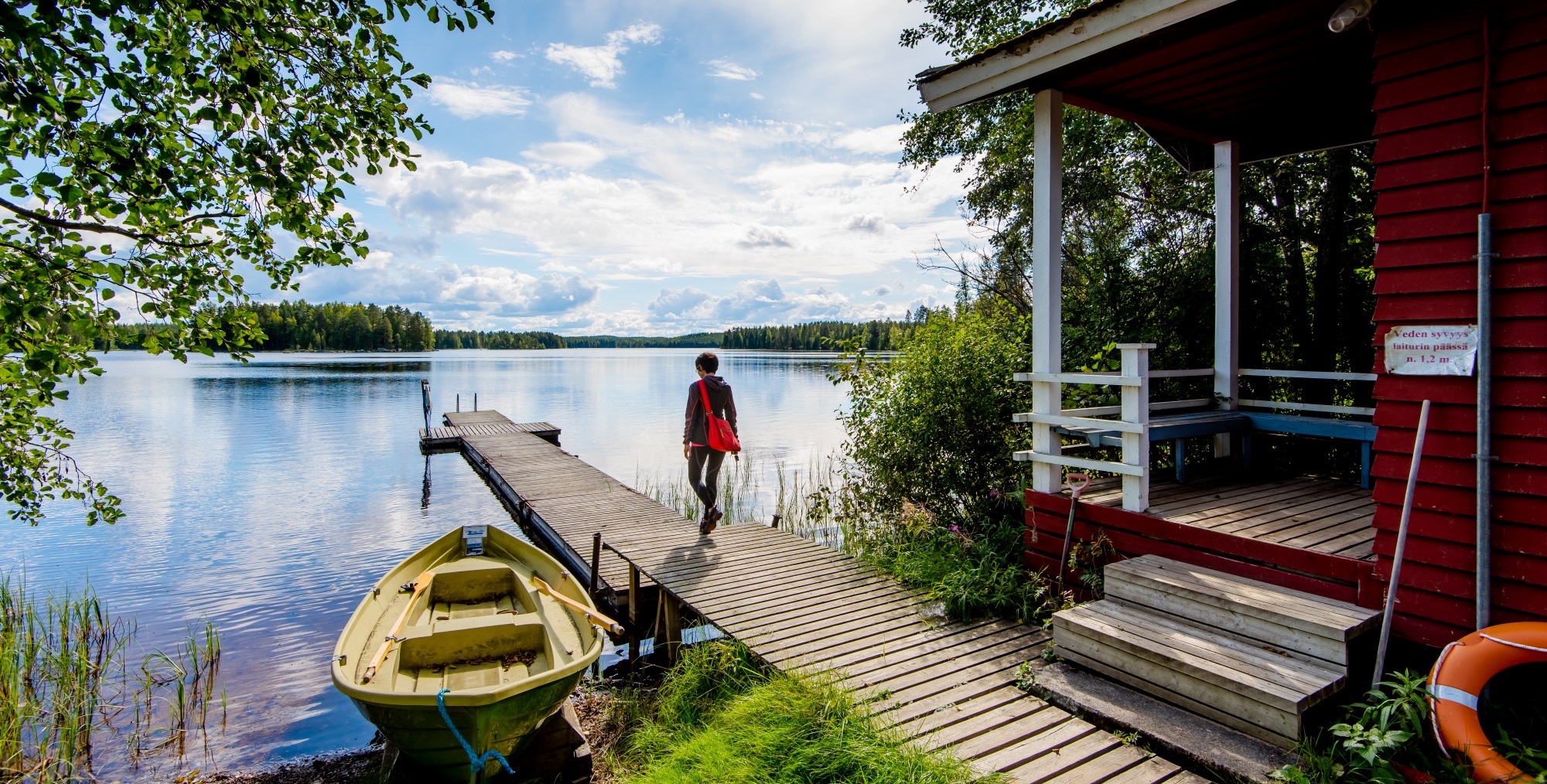 Cottage by the lake in Finland
The small cottage Mökki Santara on the lake in Savitaipale, Finland, was built in 2017 according to the design of the architect Carla Gertz. It is far from civilization, in the heart of Karelia among endless forests and lakes. The cottage consists of a residential building and a sauna with a total area of ​​105 square meters, which are connected by a wooden terrace. A low wooden platform is installed on the piles. Due to the elevated location, the house has a stunning view of the forest and Lake Santara. For the construction of the cottage were used mainly trees from this site.
Pre-assembly of supporting building elements, windows, doors and built-in furniture made it possible to complete the construction of the cottage in just 8 weeks. The facades of the house and saunas are trimmed with dark wood, which allows the structure to blend in with the surrounding landscape. The bevelled siding of the timber frame walls continues on the roof, creating a fifth facade with hidden waterproofing at the bottom. When the blinds are closed, the cottage resembles a rural barn. Unlike the dark exterior, the interior is bright and welcoming.The floors, walls and ceilings are made of raw spruce wood. Natural wood fills the space with homely warmth and coziness, and also provides a comfortable temperature in the rooms even at very low temperatures. The cottage has an open plan - living room, dining room and kitchen combined into one space. The kitchen is equipped with a dishwasher and a fridge. The bedroom has 2 double beds, one of which is a bunk bed. The house has wireless internet, running water and electricity. The house and sauna have wood stoves and heaters. A simple but very cozy forest house is ideal for recreation of nature lovers.
Related news