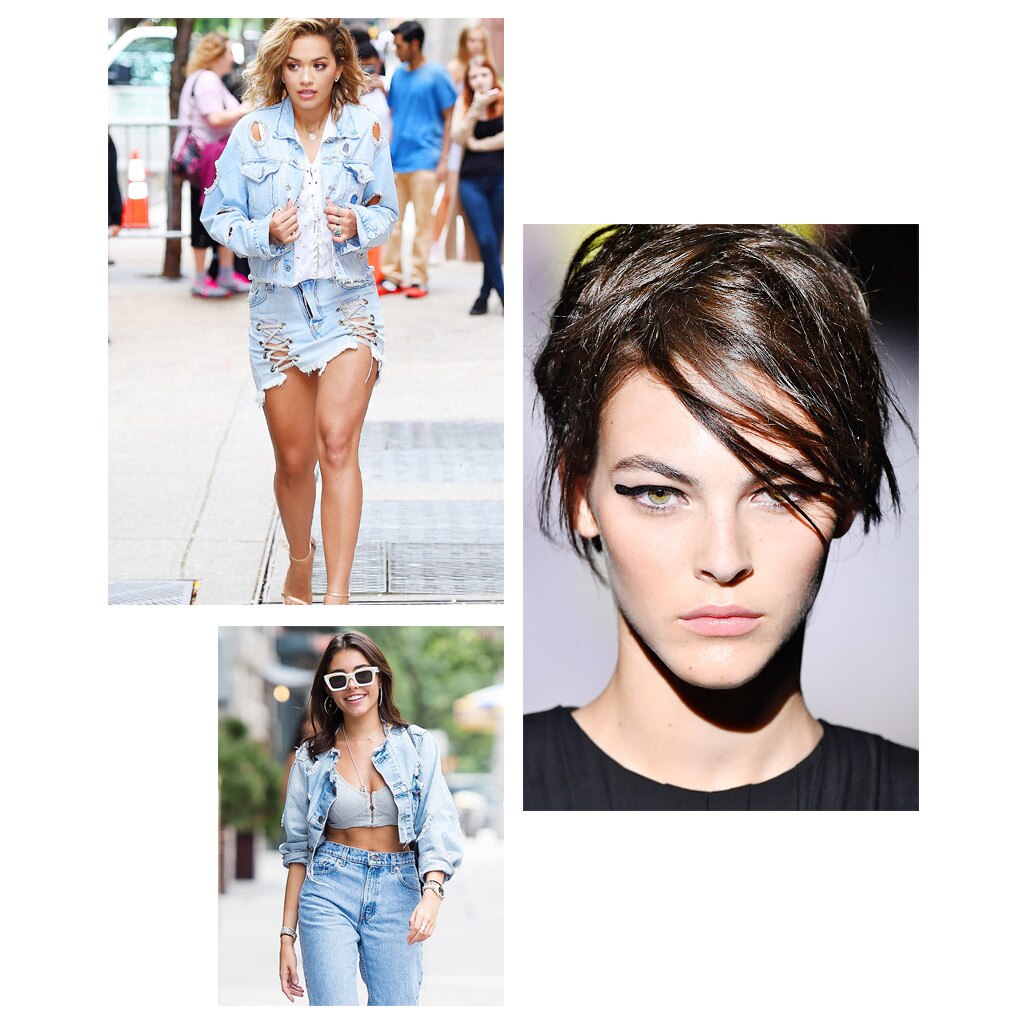 7 popular styles in hairstyles
Hairstyle along with clothing, shoes, accessories, makeup plays an important role in creating a beautiful and harmonious image.
She can tell a lot about a woman, express her inner world and mood at the moment. Hairstyles, depending on the complexity of the execution, are divided into everyday and festive. In addition, there are different styles of hairstyles, among which each woman can choose for themselves the most suitable.
Classic style
Hairstyles, which belong to the classical style, are attracted, above all, for their brevity, accuracy and severity. They are versatile and simple in design, therefore they are suitable for creating practically anyone, both everyday and business or festive.
In addition, these hairstyles have always been and remain relevant. They will never go out of style. This can be attributed to many beloved: quads, tail, the so-called "Greek knot", as well as many others.
Romantic style
By itself, the romantic style should carry the atmosphere of love, ease, good mood. Here immediately appears the image of a young, clean and carefree girl whose hair shimmers in the rays of the spring sun.
For romantic hairstyles, unlike classics, soft and smooth lines are characteristic. These are flirtatious curls and curls, also curls of various shapes and sizes, which can look somewhat casually on the head, but at the same time, do not lose their lightness and attractiveness.
To create a romantic hairstyle most suitable long hair or medium length.
Elegant style
This style is a bit in tune with the classics. Elegant hairstyles, like classic ones, have clear, concise forms. At the same time, despite the apparent simplicity, they are distinguished by elegance, thoughtfulness and highly artistic performance.
Such hairstyles are suitable for women and girls with different lengths of hair under a strict dress or business suit. They are designed to emphasize the individuality and good taste of its owner. For elegant hairstyles include haircut "page", square and many others.
Retro style
This style includes the once fashionable and very popular hairstyles of the past years.
They have an original form and are so diverse that they still do not cease to amaze and excite the imagination of modern fashionistas.
For example, haircuts of the 30s of the last century with their characteristic abundance of soft waves and curls, as well as hairstyles in the style of the 60s and heroes of the well-known musical "Hipsters" can be attributed to the retro style. We can not ignore the classic images of such world movie stars as Merelin Monroe, Audrey Hepburn, Bridget Bardot, etc.
Extravagant style
In the name of the style itself lies the truth. Extravagance hairstyles lies primarily in the unusualness of its shape, styling, hair color, etc. As a rule, such hairstyles are chosen by girls and women, seeking to express themselves, to be different from all creative and extraordinary personalities, for example, stars of show business and cinema.
Extravagant hairstyle is a challenge to society, it is difficult to ignore. It will certainly arouse the interest of others. A striking example of this is hairstyles in the style of hippie or emo.
Ethnic hairstyles
Ethnic style is popular not only in clothing, but also in hairdressing.For ethnic hairstyles, a characteristic feature is that they belong to a certain people (ethnic group), nation, or culture.
For example, here can be attributed a variety of hairstyles with weaves: braids, French braid, "African braids", etc. Moreover, such hairstyles are not necessarily combined with clothes in ethnic style, on the contrary, they perfectly complement the image of a modern woman who prefers ordinary jeans and a T-shirt.
Sport style
Hairstyles in a sporty style created specifically for girls and women who prefer to keep an active lifestyle, and do not want to spend their time creating incredibly complex designs on the head. These include short, dynamic and slightly fervent haircuts.
They are suitable for both young ladies and mature women who want to look a little younger. In addition, a hairstyle in a sporty style can be the only salvation for the owner of unruly hair, which is difficult to style.
In addition to the above hairstyles, there are many others that are less popular, however, and they have a right to exist.
Related news